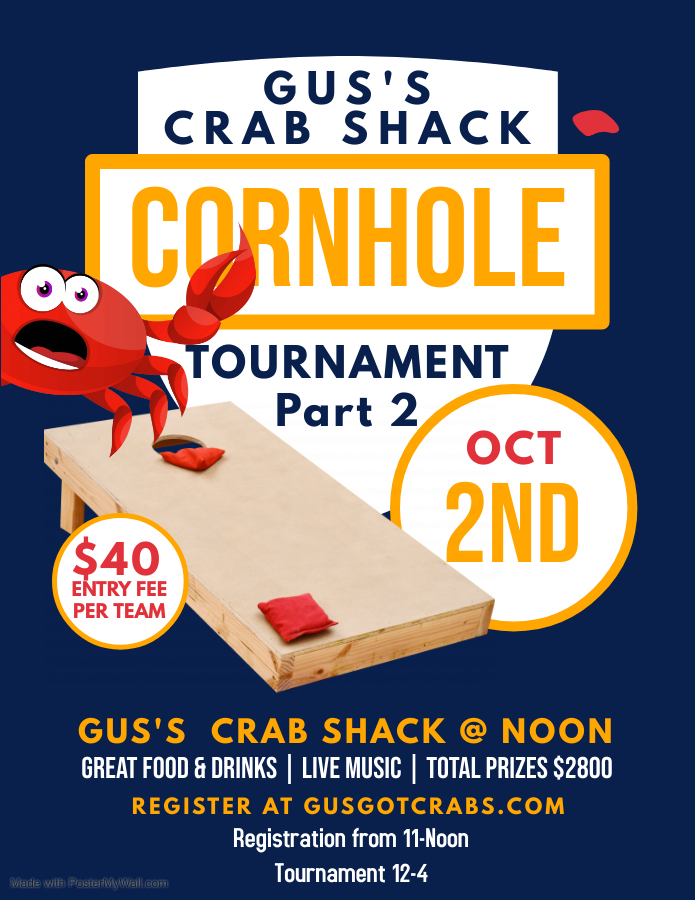 Join us for another great
Cornhole Tournament
at Gus's Crab Shack!
Cost is $40 per team.
Tournament Payouts:
1st $1,000
2nd $700
3rd $400
4th $200
5th $100
6th $100
Registration:
Registration is at 11:00 am, Tournament starts at 12:00 pm
PLEASE REGISTER THROUGH THE SCOREHOLIO APP. Only 1 person is required to register from each team. If you'd like to register both people the second person can add themselves through the app also.
Mobile Phone Registration Link: https://app.scoreholio.com/link/5iQM
This is a bring your own partner, double elimination tournament.
Tournament Rules:
Bring your own bags (Must be on the ACL approved bag list here: https://www.iplaycornhole.com/approved-bags)
We will supply bags if you do not have any.
Cancellation scoring.
First to 21 wins.
No win by 2.
No skunk rule.
No going back 15 if you go over 21 or any backyard type rules.
You must throw on the same side of the board as your teammate.
Boards are set at 27' from front to front.
Tournament will be seeded randomly.
Coin flip will decide who gets to pick what side of the boards, who shoots first, and bag colors if they're not distinguishable.
Facebook Event Link: https://www.facebook.com/events/4258861620858989/?active_tab=discussion